Latest News
Wednesday 8th September

Two paid Lunch Coordinators being sought by Farnham Assist

Do you have a heart for supporting older people?
Are you looking for a part-time paid role that could be fitted around other duties?
An exciting opportunity has arisen in a well-established and dynamic Christian charity for older people in Farnham.
We are intending to fully restart our community lunches in 2022 for Hale and Central Farnham. These enable older and isolated residents in the community to have a monthly roast dinner in the company of others. We are therefore looking for 2 people to coordinate those lunches with support from our Manager, trustees and a team of enthusiastic volunteers.
These two roles are being offered on a basis of 25 hours a month until 31st July 2022 in the first instance. Post holders will need to work some fixed hours each month (one Saturday a month for Hale or one Sunday a month at Central) but remaining hours can be flexible.
These roles are being advertised as two separate positions although could be combined to suit the right candidate.
Salary: £11 per hour
To apply to this position, please send your CV (no more than 2 pages) and a covering letter (no more than 2 pages) explaining why you are interested in this post and how you fulfil the criteria. The deadline for applications is Thursday 30th September at noon.
Applications would be preferred by email and should be sent to:-
Rodney.Bates@farnham-assist.org.uk
Alternatively, our office address is 7 St.George's Yard, Farnham Surrey, GU9 7LW and posted applications should be marked "Confidential - Farnham Assist".
If you have any informal questions then you are very welcome to contact the Manager, Rodney Bates on 01252 717710 or by-email (Rodney.Bates@farnham-assist.org.uk)
Interviews will take place in the week commencing 11 October with an intended start date around late November.
Thursday 29th July

We would like to thank a big thank you to our friends at Farnham Walkfest. They generously raised more than £500 during their walks and chose to give this to Farnham Assist as one of the Mayor's Charities for 2021/22.
This cheque was handed over by Mr Guy Singer to the Mayor of Farnham as below:-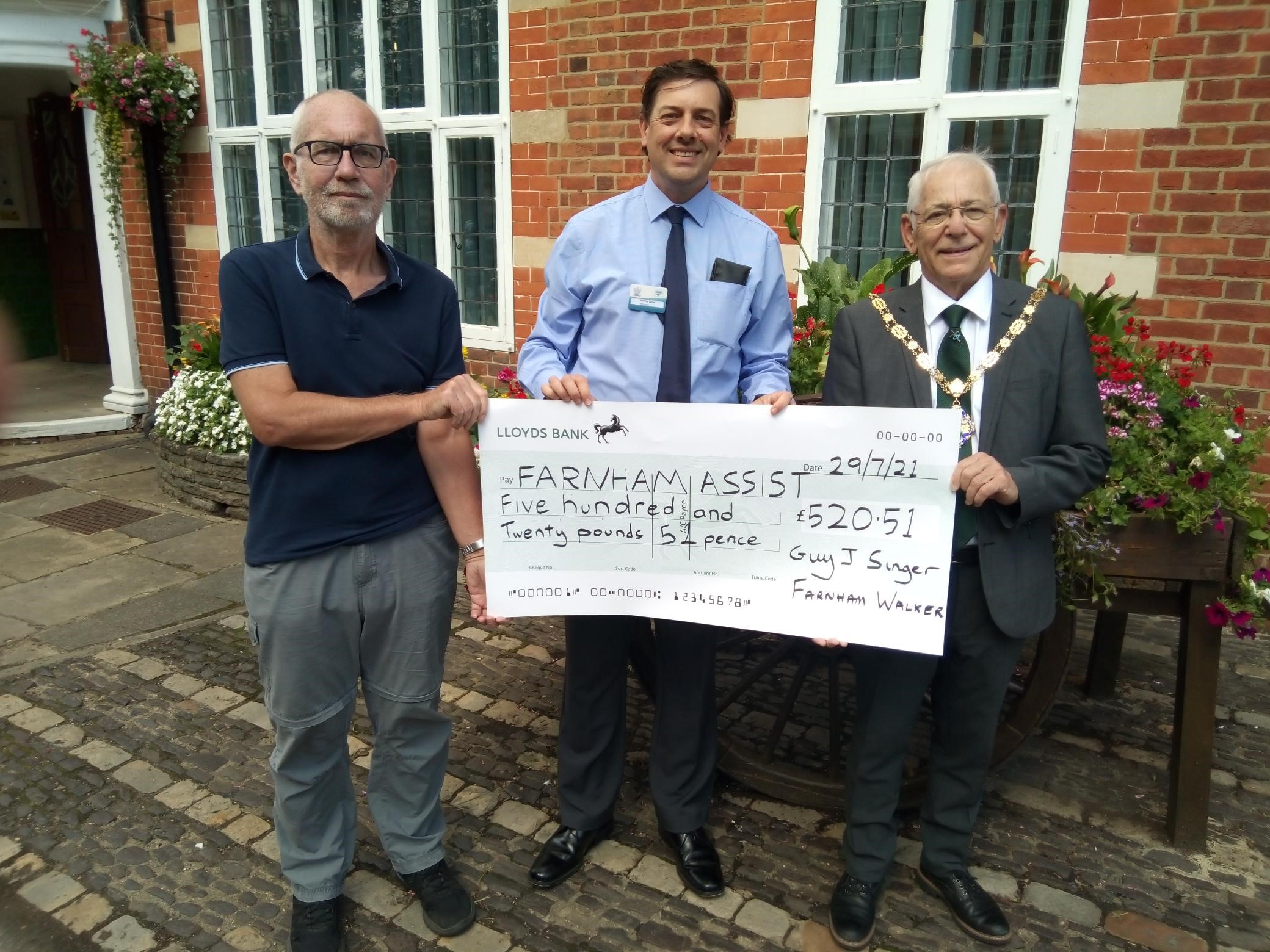 21 July 2021
Following the recent Government announcement, we are now phasing a return to our activities as follows:-
- Pie & Pint has now returned on a weekly basis
- The monthly Ladies Lunch resumed in July and taking place on the 4th Monday of each month.
- Knit & Natter resumed on Monday 2nd August and will be meeting again on 16th August before resuming fully in September.
- The Hale Lunches will resume on a quarterly basis rather than monthly for now with the first community lunch on Saturday 18th September. Our Christmas Lunch will then be on Saturday 18th December.
- The Central Lunches will also resume quarterly for now and the first lunch is likely to be in late September/early October. The Christmas Lunch is then intended for Sunday 5th December.
- Understanding Computers is currently under review and we will advise further in due course.
- Our One-to-One scheme has continued throughout the pandemic and we are phasing in home visits where both the volunteer and the client are comfortable with this.


Please do contact us 01252 717710 if you/know of anyone who is isolated and needs help, we have many volunteers willing to help and all of our activities are very friendly and welcoming.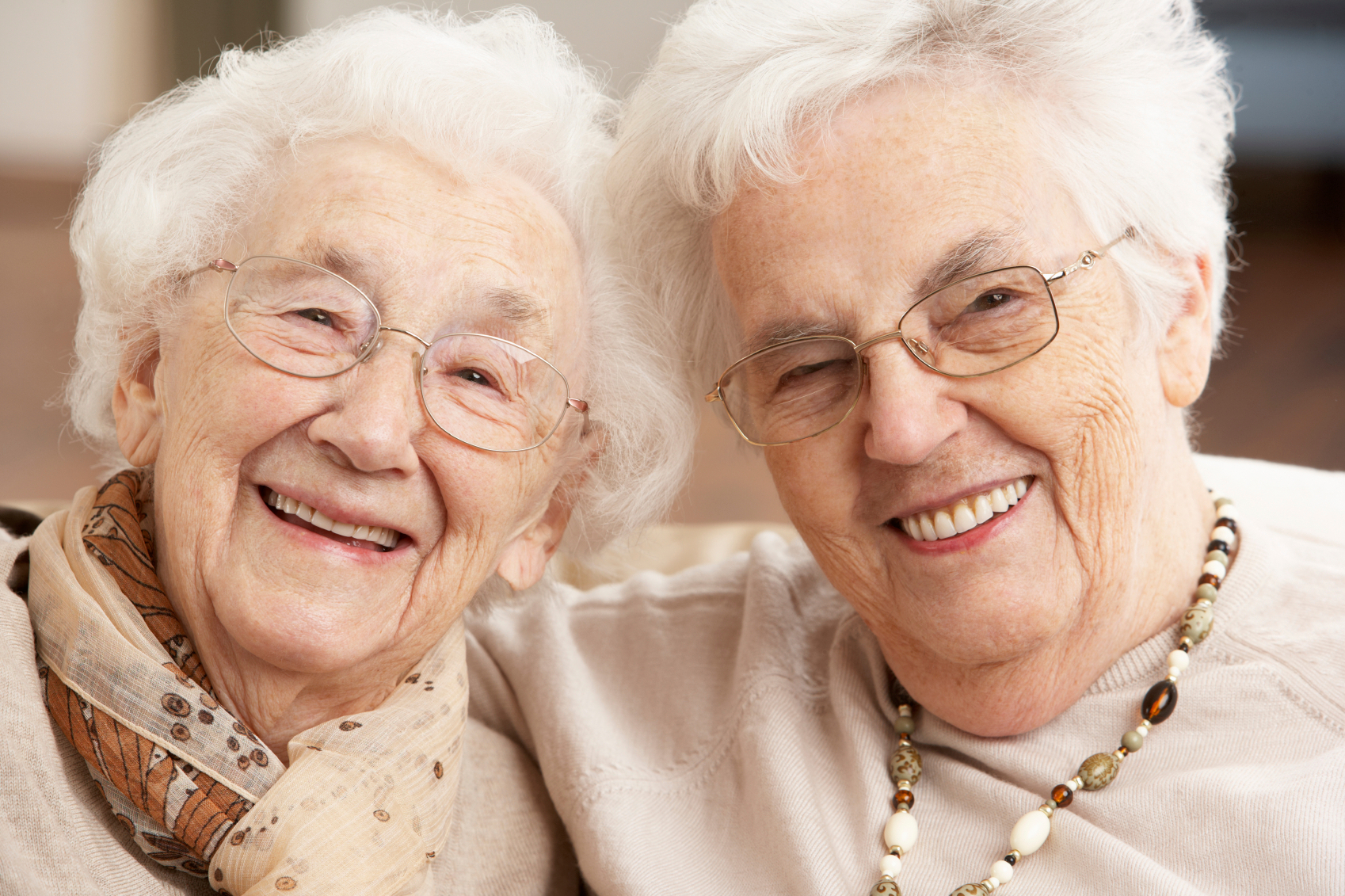 An introduction to Farnham ASSIST


We are a Christian organisation and, since 2002, we've been offering support to older people in Farnham, who may become isolated from friends and neighbours. We listen when people tell us what they would like and then, where possible, set about making it happen.

For more information please call:
01252 717710
where there is a friendly team
on hand to help you
Our normal office opening hours are:
Monday, Tuesday and Thursday
9:30 am to 12:30 pm
7 St Georges Yard
Farnham

GU9 7LW

ASSIST is a wonderful group of volunteers who work daily for the community: tirelessly, cheerfully, and always ready with a smile, an offer of help and a cup of tea and a biscuit
I think it is marvellous!
it has taken all the worry out of using the computer
I just don't know what I would do if you weren't here